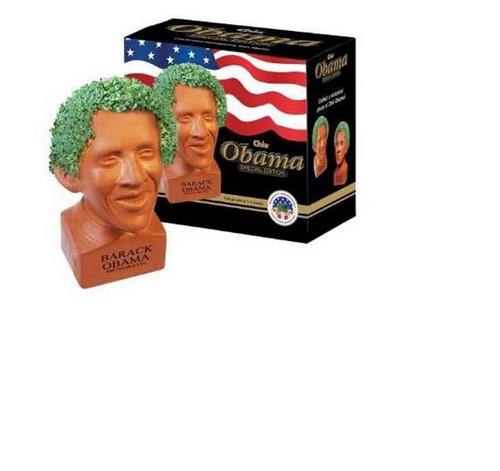 Tampa Bay and Chicago area Walgreens have pulled Obama Chia off their shelves due to complaints that the product was objectionable.
I mentioned this newest Chia version on my own blog back in January.  You really don't need a fortune teller's license to know that some people are going to get soused when our nation's leader is memorialized in clay pottery and sprouts.
The Chia company's chief of state, Joseph Pedott-an extremely ugly as hell white dude, doesn't see what the big squawk is about.  "Since when is an Afro misanthropist?  Owners can trim Chia Obama's hair to any length they want."
The potted prez comes in a "Happy"  and "Determined" editions, comes with three seed packets, and is selling out in other areas.  And only twenty bucks!
Crass?  Tacky?  Racist?  Genius?


Categories : Uncategorized