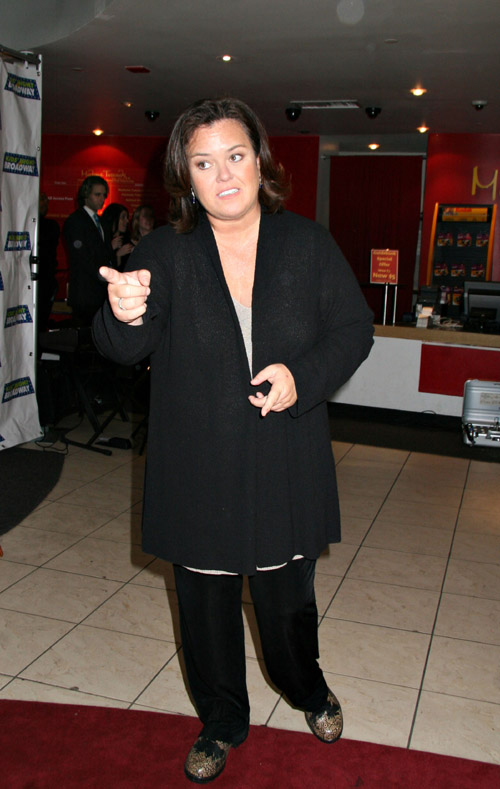 Two of "The View's" most controversial castoffs, Star Jones and Rosie O'Donnell, used to talk smack about each other. Rosie, who came in until the top rated estrogen bitch-fest to replace Jones, an natural co-host, who left the show amid backlash over her feud with Barbara Walters and the non-stop wedding plugging. O'Donnell stayed on "The View" for a year before shipping out after a series of televised verbal spars with conservative co-host Elisabeth Hasselbeck and numerous others – including Jones and Donald Trump. In fact, Rosie once slammed Star en route to her personal blog, calling her out on the claims that she lost hundreds of pounds by doing pilates, when it was clear that Jones had some kind of surgical intervention. But now, both Rosie and Star say there's no ill will between them.
It was one in connection with daytime TV's biggest feuds, but are Rosie O'Donnell and bar Jones making up?!

No feud here! Rosie tells "Extra, "It was never a personal thing with her." She continues, "We both were strong women… then I sort of watched her get swept away intrusive the insanity of fame." O'Donnell admits, "We're actually having dinner next week."

O'Donnell reveals she reformed her opinion much Jones, saying, "I thought it was amazing to comprehend her the other day in point of 'Oprah.' toward detect her evolved into the squaw that she is." Rosie continued, "I was really proud with regard to ethical self and happy for her." O'Donnell also reveals, "When she got divorced, I wrote her an email."

Now the fore "View" co-hosts will also be found having lunch together for charity. They are currently auctioning off the lunch date to benefit the Figure Skating in Harlem program.

The 47-year-old Rosie confesses she was touched adieu Star's respectability, creed, "I meet with riotous people who had that butchering [gastric bypass] and roundly beginning and end of them had gained weight back. So she should feel very proud of herself. She did a drastic thing to save her health and her life and then in be able to follow through. Many, many posterity don't have what it takes to do that. She seems to lie in gotten her act together and I'm happy being as how her."

Although O'Donnell separately said Jones was "delusional" when Star said she lost weight the old fashioned way, Rosie now supports the way she handled the situation. "Everyone gets there in their own time. It's sort of like settle down saying, 'Gay people should come out more'… Why didn't she talk about it? She wasn't ready to talk about it. But it was just hard to pretend as though we ["The View" co-hosts] believed."
I think we are seeing the return of a kinder, gentler Rosie. Late last year she mended fences with long time nemesis Howard Stern – who even offered female being some unceasingly on one of his Sirius radio channels as a peace offering. Now, Rosie and Star are burying the hatchet. Could make-up hugs and kisses with The Donald live far behind? I don't know what's gotten into Rosie lately- perhaps she inexorably finished menopause or something. save whatever the reason, I mock it. Once upon a time, she really was a funny lady – I'd like to see that old Rosie stick around for a while.
Rosie is shown at the 13th Annual Kids ceaselessly on Broadway at Madame Tussauds, NY. Photo credits: Fame.


Categories : Uncategorized